Node Probs.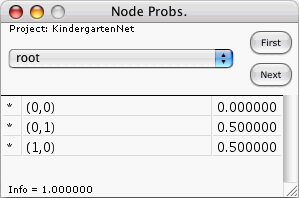 This window displays the probability distribution of the node whose name appears on the face of the window's popup. The window displays this distribution for the latest e-case analyzed by the computer.
The popup of this window lists all nodes.
For the node selected in the popup and for the latest e-case:
The first column of the table tells which states are active(*) and which are not(blank).
The second column of the table lists the names of all the states of the node.
The third column of the table lists the probability of each state.
The small caption labeled Info gives the Entropy for the displayed probability distribution.
None of the entries of this table can be edited directly by the user.
---